Astrology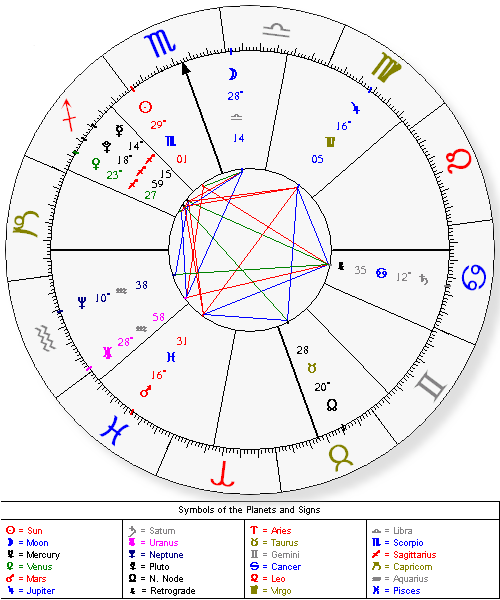 Spane Anthony Boswell was born on Friday morning, November 21st, 2003 at 10:32 a.m. in Glendale, California at Glendale Adventist Medical Center. He weighed 7 pounds, 11 1/2 ounces, and he was 19 3/4 inches long. He was delivered by Dr. Wu, Dr. Bush-Smith, Maritsa, and Teresa, with me pushing. He was very loud his first half and hour or so, I mean this son of mine has a set of lungs on him that won't quit!
Sun in Scorpio
The Sun resides in this eighth sign of the zodiac from 23 October until 22 November each year. The symbol for Scorpio is the Scorpion.
Like the other water signs, this sign is very sensitive and emotional. With Scorpio, unlike the water signs Cancer and Pisces, the emotions remain under rigid control. They may not even be apparent to those who are very close to you. When your emotions do erupt, they do so very violently, often with a strong burst of sarcasm and vindictiveness.
The strength of Scorpio is in the methods employed to meet every challenge. You approach everything with intensity and passion. Nothing is ever halfway because you put everything you have in your work; mind, heart, soul. You are one of those people who always gives 100% and sometimes more. Many born under the sign Scorpio become classic workaholics.
You may have an undesirable trait commonly found in the Scorpio person, holding a grudge for a very long time. The underside of Scorpio is often possessed with uncontrollable jealousies and the strongest passions. When offended the reaction is surely revenge. The higher side of Scorpio still dominates people and situations, but with much for the common good. This sign produces very few lukewarm people. You are either very bad or very good.
In Scorpio, the Sun is intense, skeptical and secretive. There is an intensity and a secretiveness in your makeup which results in an inscrutable persona most people cannot penetrate. This trait makes the Scorpio personality hard to detect. You like to remain incognito, and do so with your very secretive nature. You are a master at hiding your emotions. You neither flinch nor blush. It's hard for you to share your inner feelings with anyone.
You can be very critical and demanding, creating a forceful and dominating demeanor. You are strong-willed and determined, and you usually act with incisiveness. Your critical nature allows you to make shrewd and unusually accurate judgments at a rapid rate. You can penetrate the hidden agenda of those you meet. It is in your nature to protect yourself by knowing what your opponents are thinking and doing. You have uncanny intuition and accurate perceptions, making you almost psychic in understanding and making emotional connections with other people. Very few successfully earn your trust. Often, you experience difficulties with the authority figures in your life.
At home, you may be something of a tyrant, wanting everything done your way. You think you are always right and won't tolerate dissent. There is a tendency for you to impose your will on friends and family since you feel so passionately that your ideas are in their best interest. No one takes relationships more serious than you. Although you are highly attracted to, and attractive to, the opposite sex, in many respects you function well as a 'lone wolf' type.
Moon in Libra
A Libra Moon gives a sense of understanding, tolerance, and gentleness. You are ambitious, but at the same time, so very dependent on others. The symbol of Libra is the scales, signifying the innate symmetry the influence provides. This is the position of the diplomat, broad-minded and open, social, and friendly.
The adaptability of this Moon sign is considerable; you don't like disputes and disorder, and you do what you can to maintain a well-oiled social and business life. Balance, harmony and domestic tranquility are very important to you. Even-tempered, well-mannered and congenial, you display all those attributes that assures many friends and an active social life. You are truly a thoughtful and good-natured person who goes out of the way to be nice to people. You are very fond of people and don't enjoy being alone for very long. You have a need to have everyone like you, and your emotional well-being depends on the approval others. Thus, you are over-anxious to please. This is the sign of the consummate peacemaker and diplomat.
Your nature is affectionate and easily swayed, often exhibiting a tendency towards indolence. Sometimes you tend to have too much reliance on others and you may delay making important decisions. At many times, you seem to be facing life's problems and decisions on more or less a trial and error basis. Too willing to compromise, you frequently allow others to take advantage of you. You freely sacrifice your own wishes for someone else's. It is very hard for you to be assertive and stand up for yourself. Since you don't like conflict situations, you may refrain from expressing the dissatisfactions you have in your relationships, often waiting until it is too late to rectify the situation.
Relationships are important to your and you don't like being alone. A stable partner, you tend to settle with one special person rather than playing the field. Devoted and faithful, you spend a great deal of your time catering to the needs and desires of your mate. Stability rather than passion or excitement is your goal in a partner. It is usually thought that Libra love affairs are of the head rather than the heart. Concern with what others think and doing what is correct makes you rather conventional and conservative in all your romantic and social activities.
You are refined and you have a definite love of the refined; art, music, etc. You may have some natural artistic or musical talent. At the very least you appreciate all the finer things in life and you are apt to be a patron of the arts if your means permit.
You are a good planner, but often it is hard for you to get your plans into action and to see them through to completion. The Libra mind is more contemplative, building great ideas, but sometimes failing carry them out. Decisiveness is not usually a strong quality with Moon in Libra; the mind may be building great ideas, but you are not always ready to act on them. Decision-making can be tough, because you can usually see both sides of every issue. For you, judgment is more important than execution.
Capricorn Ascendant
Capricorn on the rise produces a personality that is serious, prudent and patient. Saturn rules Capricorn, and becomes the ruling planet in your chart. The Saturn influence suggests the most responsible type of personality, and gives a "never say die" approach to life that is the essence of your nature.
The Capricorn Ascendant also gives a reserve and a restraint that can make you seem very austere and even melancholy. You appear critical and cold because of an ethical and righteous attitude that duty must be done. This is a complex sign.
You seem aloof and remote, yet an elegant quality may conceal an inherent shyness. You are somewhat timid, and you may even suffer from feelings of inadequacy, especially in the early years of your life. Very straight-laced and proper behavior is sometimes a facade hiding a sense of insecurity or of feelings that you are unwanted or unappreciated.
You may be somewhat a workaholic and expect those around you to share such dedication to duty. You can be judgmental of others on a variety of issues. This often strains personal relationships. Because you're such a perfectionist with your work, you procrastinate a great deal. You are conservative in your actions and habits, and will remain this way even if you accumulate considerable wealth.
Usually, Capricorn on the rise produces an ambitious person. Yet you have more concern with your degree of prestige and status, than with the amount of money that achieving your goals may eventually bring. You seem very serious and old before your time while you are in your youth; even as a child, you are likely to be very self-sufficient. Sometimes responsibility is assumed at an early age.
Like the Capricorn symbol, the Mountain Goat, you climb to the top in a very slow, sure-footed way, always staying on solid ground and taking your sweet time about it. There is much stability in your makeup and you rarely become discouraged, even when you are faced with frequent setbacks and roadblocks. The combination of your superior organizing ability and overwhelming determination assures your eventual, if sometimes delayed, success.